Advocacy in ADFM and Beyond
"Our lives begin to end the day we become silent about things that matter." - Martin Luther King Jr.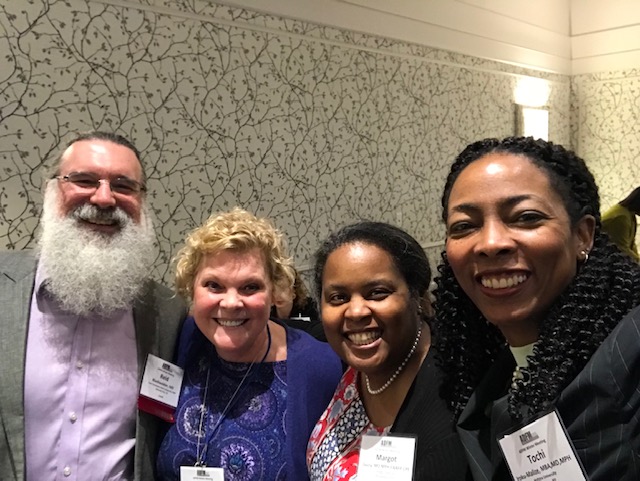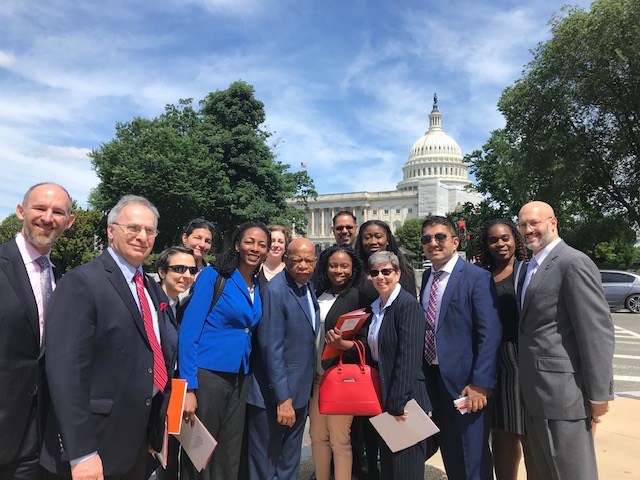 (pictured: some of our favorite advocates - have a picture of your advocacy work? Send to Sam Elwood (selwood@adfm.org). 
ADFM Advocacy Committee Charge: 
Family medicine departments are uniquely poised to promote the health of individuals, families and communities, and to provide optimal learning and working environments for trainees, faculty and staff. Family medicine departments can advocate to address challenges that affect the health of our patients such as access to affordable primary health care, racism, economic, social and health inequities, global warming, the Covid-19 pandemic and other emerging health issues. 
Mission: The ADFM Advocacy Committee (AC) was convened to build family medicine department members' capacities to promote effective advocacy.
Goal: Enhance family medicine departments' advocacy efforts to improve the health and well-being of patients, and to support trainees, faculty and institutions to address societal challenges. The AC will focus its resources on departments' priorities to achieve the goals of patient care, education and research. 
The ADFM Advocacy Committee coordinates efforts with the family of family medicine organizations including the Council of Academic Family Medicine (CAFM) and the Academic Family Medicine Advocacy Committee (AFMAC).  Our aim is to enhance and not duplicate others' efforts.
Read more about us in the latest ADFM Annals Commentary!
Advocacy Case Studies:
CLICK HERE to submit an Advocacy Case Study Today!
The Advocacy Committee is seeking examples of effective advocacy by family medicine faculty and departments - please consider clicking above to submit your story or reach out to Sam Elwood at selwood@adfm.org.
Example case studies:
History and Charge of CAFM:
ADFM is part of the Council of Academic Family Medicine (CAFM) along with STFM, NAPCRG and AFMRD. 
The four academic family medicine organizations - Association of Departments of Family Medicine (ADFM), the Association of Family Medicine Residency Directors (AFMRD), the North American Primary Care Research Group (NAPCRG), and the Society of Teachers of Family Medicine (STFM) launched the Council of Academic Family Medicine (CAFM) in January 2008. CAFM coordinates activities across organizations to promote strategic initiatives that support academic family medicine. More details on CAFM can be found in the advocacy resource section below. 
Goals of CAFM 
Provide a unified voice for academic family medicine
Provide a structure for working together more effectively
Provide a place for outside organizations to come to collaborate

History and Charge of AFMAC:
ADFM is also part of the Academic Family Medicine Advocacy Committee (AFMAC), which involves ADFM along with STFM, ABFM, AAFP, NAPCRG and AFMRD.
Functionally, the Academic Family Medicine Advocacy Committee (AFMAC) has been in existence since 1992, although under a different name and auspice. Membership has historically been the four CAFM organizations and the AAFP. In February of 2014, the American Board of Family Medicine became a member. The founding premise behind AFMAC is that the "family" of family medicine jointly develops policy and works together with respect to academic family medicine legislative and regulatory issues. Working together through AFMAC on academic issues ensures all voices are heard and is in the best interests of the discipline. Working together effectively on academic initiatives, coordinating overlapping and duplicative efforts, and speaking with a unified voice are standards the committee and its member organizations will aspire to. These standards provide greater opportunities and facilitate greater impact than working separately does. More details on AFMAC can be found in the advocacy resource section below. 
Advocacy Resources:


ADFM-generated Advocacy Resources: