Consultation and Coaching Services
Building Research Capacity (BRC) Consultation Service

:
BRC is a joint initiative between ADFM and NAPCRG in cooperation with STFM. BRC provides opportunities for all departments and residency programs (and the individuals within them) to engage family medicine leaders, researchers, and each other.  Mutually beneficial interactions under the BRC umbrella build research capacity along with the actual accomplishment of published and presented research and scholarship.
There is no one formula or pattern for a BRC consultation - they can vary depending on the size and current research & scholarship capacity of the department as well as the goals of the consultation.  BRC Consultations range from very specific problem-solving such as recruitment and leadership issues to the development of a broad multi-year strategic plan. That said, the final product of BRC consultations is similar in terms of documenting an assessment of the current status of the department's research infrastructure and outlining the steps that would be required to get to the desired future state. Deliverables are typically written report(s) for internal and/or external use, depending again on the needs of the client. 
Consultations utilize a range of tools to gather data, including reviewing historical records, interviews with individuals in the department and institution, in-person visits, and may draw upon published and literature if relevant. BRC consultants will draft a report or review a draft report if the Department wishes to take the lead. The client may wish to share this draft with key stakeholders for feedback and input. In other words, the report is developed as a joint effort between the consultants and clients with the workload distributed as negotiated. In the event that a comprehensive strategic plan intended for wide dissemination is one of the goals and is developed as an end product, BRC Consultants recommend a full-day in-person review for feedback and engagement by key stakeholders that will be responsible for supporting and implementing the plan.  Once the report (and/or strategic plan) has been finalized, the BRC Assessment & Evaluation Subcommittee follows up with an evaluation process that includes a survey about satisfaction with consultation and whether the clients feel they are able to implement the recommendations.
Review a general timeline below and contact Jessie Vera, jvera@adfm.org, if you are interested in setting up a call to discuss whether a BRC Consultation is right for your organization!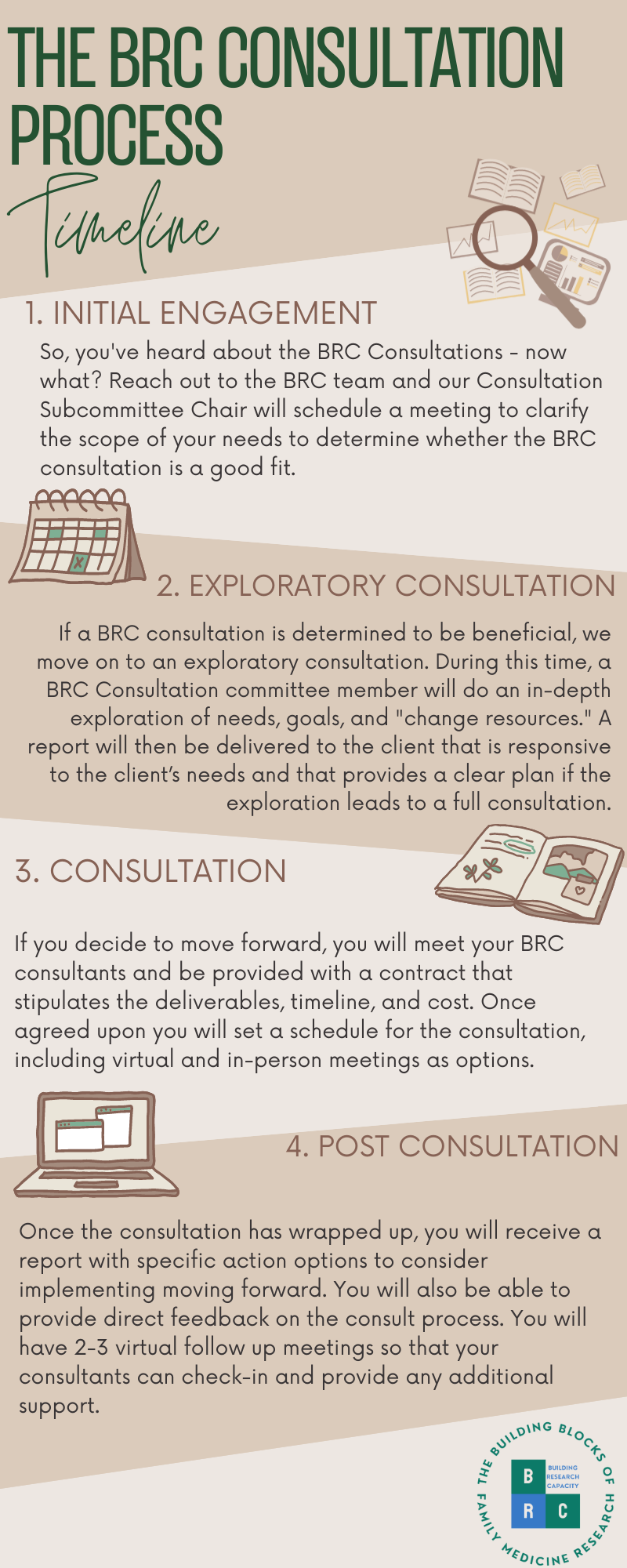 Executive Coaching:
Our ADFM Membership has supplied a list of Executive Coaches they have utilized over the years. See the list and their testimonials here.